Bankruptcy Lawyers Lexington KY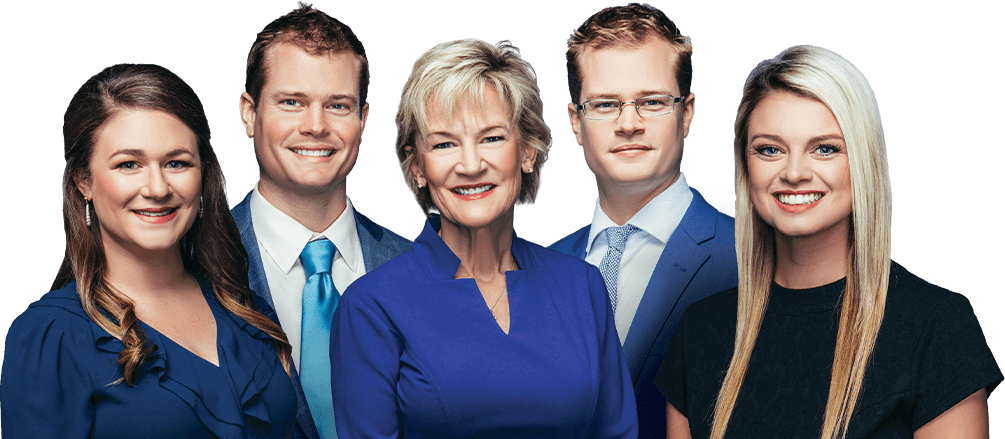 Are you in need of a full-service bankruptcy law firm to help you achieve debt relief? At O'Bryan Law Offices in Kentucky, we offer a wide range of debt relief solutions to help you get rid of credit card debt, eliminate medical bills, stop wage garnishment, and overcome your financial difficulties. To explore the legal services we offer to our clients, please call us at 502-339-0222 or fill out our online intake form today. We offer a free initial consultation to every individual who reaches out to our KY bankruptcy lawyers.
Top-Rated Bankruptcy Lawyers in Lexington KY
You might be struggling to decide between hiring a debt relief agency or a bankruptcy law firm. Luckily, we're here to offer comprehensive legal services and solutions to help with your personal bankruptcy or business bankruptcy. Not only do we actively practice bankruptcy law, but we have also provided debt counseling and credit counseling to debtors in Kentucky for decades.
One of our founding bankruptcy attorneys, Julie O'Bryan, has been Board Certified in Consumer Bankruptcy since 2003. Our firm as a whole has more than 40 years of combined legal experience. Since our inception, we have helped consumers file more than 25,000 Chapter 7 and Chapter 13 bankruptcy cases. We've also helped more than 30,000 families achieve bankruptcy relief and a fresh start financially. In other words, we're committed to helping consumers and businesses in Central Kentucky achieve the relief they need.
Do I Need a Lawyer to File Bankruptcy?
While it is possible to file bankruptcy without the help of a bankruptcy lawyer, it's not always the best idea. It's almost always a great idea to at least consult with an attorney regarding your bankruptcy cases. Below, we list two instances in which having legal counsel could be invaluable for you.
You Have a Complicated Chapter 7 Bankruptcy
Not everyone who files for Chapter 7 bankruptcy automatically receives the right to dismiss their bankruptcy case. If you make even a minor mistake on your paperwork, you run the risk of seeing your case thrown out. The bankruptcy court could also take and sell your assets, and your creditors could file a lawsuit against you to ensure that you don't receive a discharge on certain debts. Therefore, if any of the following traits apply to you, you probably want to hire an attorney.
You own your own small business.
You have priority debts.
Your income is above the median income level in your state.
You have a significant amount of assets.
You have priority debts.
Your creditors could make claims against you on a fraud basis.
What Is a Priority Debt? 
We promote the idea that bankruptcy is a helpful tool to help those who are financially overwhelmed. And that's precisely what it is. However, it doesn't always lead to a discharge for everything you owe money on. If you have any money to pay back your creditors, priority debts are those that get paid first. They're also nondischargeable, which means they won't go away through bankruptcy. Below, we list some of the most common forms of priority debts.
Domestic support obligations, such as child support or alimony (spousal support)
Restitution, fines, or penalties imposed upon you for breaking the law
Taxes
Debts incurred for driving while under the influence of drugs or alcohol
Homeowners' association fees that you accumulated after you filed for bankruptcy
Retirement plan loans
Any money you borrowed to pay off nondischargeable tax debts
Nondischargeable debts from a previous bankruptcy
Additionally, you can't discharge your student loans unless you can successfully prove that paying them off would result in hardship for you. Most people have difficulty proving hardship, and filing a lawsuit to prove it is expensive.
Lastly, there is the possibility that one of your creditors will try to file a complaint of nondischargeability against you. They will try to establish that one or more of your debts shouldn't be discharged in your case. In order to be successful, the creditor must prove that you did at least one of the following.
Committed fraud by writing a bad check, lying about your income, or some other way
Charged a luxury item under 90 days before filing for bankruptcy
Embezzled funds or stole money
Purposefully harmed someone else or damaged their property
Failed to list all your creditors in your petition for bankruptcy
Here's the bottom line. If you believe that you might have nondischargeable debts, or that one of your creditors will file a suit against you, your best bet is hiring a bankruptcy attorney from Lexington KY.
You Need to File for Chapter 13 Bankruptcy
Many reasons exist for filing Chapter 13 bankruptcy instead of Chapter 7. Maybe you want to catch up on mortgage payments, get rid of a second mortgage, reduce your car loans, or pay back your priority debts. Some people simply make too much money to file for Chapter 7. No matter the reason you end up filing for Chapter 13, these cases are often far too complicated to tackle on your own. 
First, you'll have to fill out the appropriate bankruptcy forms, plus the necessary local forms. Then, you need to design a repayment plan that works for you. This is extremely tedious and difficult without the types of computer software that most attorneys use for this purpose. Other specific actions like cram downs require further court documents and motions. For all these reasons, we recommend avoiding the risk of having your case thrown out by speaking with an experienced bankruptcy attorney.
How Do I File for Chapter 7 Bankruptcy?
The first step to filing for Chapter 7 is to gather all your financial information. Below, we include a helpful checklist of what you'll need initially.
Tax returns from the last two years
Six months of proof of income from all sources, including your employer, unemployment benefits, alimony or maintenance payments, and other sources of income
Six months of bank statements, plus investment and retirement statements
Copies of your driver's license, or another form of identification
Copies of either your social security card, or proof of your SSN
Your trustee might ask for more information, including the following:

Mortgage and car loan statements
Home and car valuation
Valuations of unusual items or antiques that you own
Pictures of damaged property
Photos of rare or collectible items
Repair estimates for damaged property

If you own your own business, trustees often ask for the following:

Twelve months of profits and loss statements
Two yearly profit/loss statements
Copies of liability insurance policies
These are just a few of the documents you'll need to file for bankruptcy Chapter 7. Once you have everything, work with your attorney to initiate filing. You'll have to pay a filing fee with the local bankruptcy court. This is when your case officially begins. After a few days, your creditors will receive notice of the automatic stay, which prevents them from pursuing collection actions against you.
How Do I File for Chapter 13 Bankruptcy?
Chapter 13 filers, on the other hand, must reimburse creditors in whole or in part over three to five years. However, because of the payment plan, Chapter 13 might provide benefits not accessible in Chapter 7. For example, not only do you preserve all of your belongings, but you can also save your home or automobile from being repossessed. 
You can utilize this chapter to push a creditor into a repayment schedule if you need more time to repay a debt that you can't discharge in bankruptcy. What is the chapter's main flaw? It may be rather costly. Many folks are unable to make the monthly payment. Qualified bankruptcy attorneys can advise you before filing about which chapter best suits your situation.
What Makes a Good Bankruptcy Attorney?
Good attorneys have one main priority: going the extra mile for every client. They prioritize every attorney client relationship, and provide a wide variety of legal options for their clients. At O'Bryan Law Offices, we strive to uphold these standards daily. We take our time to sit down and speak with clients about their options, explain the intricacies of the Bankruptcy Code, and answer any questions you may have about your case. 
From the very beginning of your free consultation, we'll listen to every detail you share with us, while maintaining total confidentiality. Once we have all the details we need, we'll ensure that we put our dedication and experience to good use on your behalf. No matter how overwhelmed you feel initially, we promise to walk you through every step of the bankruptcy process and achieve the best possible outcome for your situation.
Identifying and Assessing All Viable Strategies
There are many different ways to approach bankruptcy, and an experienced attorney will outline all your options. If you already feel trapped under your debt, you won't want to feel trapped into one or two solutions for your predicament. A bankruptcy lawyer with O'Bryan Law Offices will explore all possible options to help you overcome your financial challenges. The bankruptcy process can feel daunting, but qualified legal representation can help when small businesses and people file bankruptcy.
Experience in All Areas of Bankruptcy
At O'Bryan Law Offices, our decades of experience works to your advantage. Working with our law firm is beneficial not only during the bankruptcy process, but also after. Our lawyers understand how stressful financial difficulty can be. Below, we provide examples of just a few of the ways we can help you.
Reorganization bankruptcy
Prevent creditor harassment 
Providing relief to distressed businesses
Avoid foreclosure
Stop wage garnishments
Help small and medium sized businesses with legal issues
Explain bankruptcy laws and business law in a more understandable way
Are You Struggling with Debt in Your Financial Life?
No matter the reason for your debt, it's nothing to be ashamed of. According to a 2021 report from CNBC, the average American has approximately $90,460 in debt. That's no small number. But it's also nothing to be ashamed of. There is indeed a stigma around having a fair amount of debt, but a good attorney will never judge you for it. 
If you find yourself slipping further and further into debt, it may be time to seek out help from a qualified bankruptcy lawyer. It's always better to admit that you need help and seek it out instead of waiting until you're in too deep. Asking for help is the first step to a brighter financial future. While nobody dreams of filing for bankruptcy, it's sometimes the smartest choice. It can give you a fresh perspective on your situation, as well as lower levels of stress.
How Can a Bankruptcy Lawyer Help You?
The most significant benefit to you is that an experienced attorney will rapidly notice any possible snags in your case and prepare accordingly. Here's a sample of the benefits a good consumer bankruptcy attorney may provide.
Bankruptcy Planning Advantages
Bankruptcy may not be the only option for achieving financial stability. If bankruptcy is not the best option, your lawyer will provide a suitable bankruptcy alternative.
Chapters 7 and 13 achieve distinct objectives and serve different purposes. For example, Chapter 7 will help you get rid of a lot of debt quickly, but it won't help you save your home if you're behind on your payments. Your lawyer will carefully assess your desires and requirements before recommending a strategy to assist you in reaching your objectives.
The means test determines whether you are eligible for Chapter 7 bankruptcy or can afford to make payments in a Chapter 13 bankruptcy case. An attorney will understand any particular circumstances you give.
An attorney will also help you in the valuations of your property. Every state has its own exemption method for keeping property after a bankruptcy. Your lawyer will know how to take advantage of the exemption regulations to safeguard as much of your wealth as possible.
Some debts are not discharged (wiped away) in bankruptcy. Others will only leave if specific criteria are satisfied. Your lawyer will clarify which debts will be discharged and which will be kept.
Why Do You Need an Experienced Lawyer in Lexington, KY?
There are so many ways a bankruptcy lawyer can help your situation. Our attorneys will answer all of your questions, explain the bankruptcy laws in great detail, and offer you several options to choose from. Most importantly, we advocate on your behalf throughout the entire process, protecting your civil rights along the way. 
How Much Does It Cost to File Bankruptcy in Lexington Kentucky?
The good news is that filing for bankruptcy is often less expensive than certain other legal procedures, such as filing for divorce. It also depends on which chapter you decide to file. Slightly different fees exist for Chapter 7 bankruptcy and Chapter 13 bankruptcy. However, most people can expect the total cost of filing fees and surcharges not to exceed $400.
Chapter 7: $245 filing fee, plus $75 administrative fee and $15 trustee surcharge
Chapter 13: $235 filing fee and $75 administrative fee
Petitioners must complete two required bankruptcy education courses from certified credit counseling firms in both circumstances. Because the federal government determines the maximum permissible expenditures, the overall cost of the courses ranges from $0 to $100.
Small extra expenditures, such as $0.50 per page for document reproduction, $11 for document certification, and $22 for exemplification, may be imposed, among other incidental fees that might build up in complex and lengthy court proceedings.
Read More About Our Practice Areas
Contact a Lexington KY Bankruptcy Lawyer Today
If you need a bankruptcy lawyer who will prioritize your legal needs, O'Bryan Law Offices are here for you. We are highly skilled in helping Kentucky and Indiana residents file for bankruptcy. The first step in bettering your financial future is to seek out help. Bankruptcy courts have strict procedures, so don't risk having your case thrown out by filing independently. Contact a Lexington KY bankruptcy lawyer with O'Bryan Law Offices today. Call 502-339-0222 or fill out our online intake form to schedule a free consultation today.
Other Areas We Serve: